JULY 3RD
FOOD TRUCKS & FIREWORKS
You are invited to our 2nd annual Food Trucks & Fireworks show. The event will take place on Sunday, July 3rd. Food trucks open at 7:00 pm and fireworks will begin shortly after sundown. Bring some blankets or lawn chairs and enjoy an amazing firework show with the family.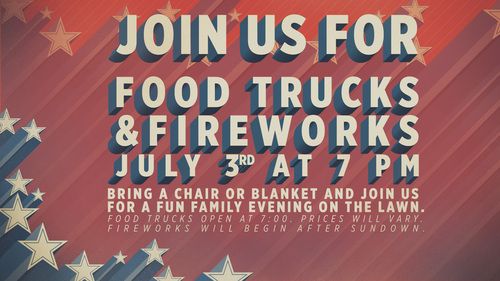 Join Us For Our Online Service
Sundays @ 11:00 AM | Wednesdays @ 7:00 PM
Gospel Light Baptist Church is a Bible-believing, unaffiliated Baptist church where Jesus is preeminent, people are loved and the gospel of grace is center-stage. If you are looking for a friendly, healthy, dynamic local church - you're going to love growing in God's grace with us.
8:30 AM | Sr. Adult Class
9:30 & 11:00 AM | Worship Services
6:00 PM | Classes for All Ages
We'd love to hear from you. Fill out the form below to get started.